TINKLING SPRING PRESBYTERIAN CHURCH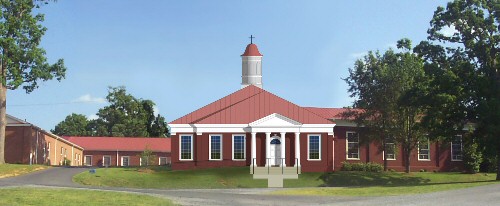 The original log structure that housed the Tinkling Spring Presbyterian Church was built in 1740. It was replaced by a stone building measuring 30 feet by 60 feet with a slave gallery. A ladder entered the gallery from the outside at one end of the building. It stood 200 yards east of the spring.
The present brick church was dedicated in 1850. The plans called for the new structure to be 56 feet by 42 feet, with two aisles and four tiers of pews. The gallery was to be across the end. Designed of plainest Doric, lacking ornamentation, the building was of very chaste proportions. The designer was Robert L. Dabney, who was a minister of the church at that time. In 1916, the church building was remodeled, eliminating the gallery and relocating the aisles. The sanctuary was redecorated to include "new lights, carpet and paneling and relocation of the organ." The church is on the National Register of Historic Places.
On February 20, 2002 the Building Committee commissioned DASA, plc to Design an expansion to their existing Historic Sanctuary. The call from the committee was to consider a design that would incorporate space for a growing Presbyterian community that is projecting their needs and demands into the Shenandoah Valley. The other call was to incorporate the architectural style that represents a deep respect for the existing Historic site.