---
Don A. Swofford, AIA Chairman of HRC
Don A. Swofford, AIA, was named Chairman of the American Institute of Architects (nka. AIA) Historic Resources Committee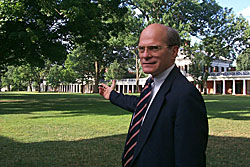 (nka. HRC) for the 1999 calendar year. At the final committee meeting of 1999 Don A. Swofford, AIA, stepped down as Chairman of HRC. Don, as an active member of the historic preservation community in Virginia since 1972, has worked to promote the preservation, conservation and interpretation of the historic buildings in our environment. During Don's tenure as Chairman of HRC he has hosted a conference of historic preservation officials in Washington, DC--to discuss the role of architects and the design of new structures in historic places. Don has also hosted the preservation breakfast at the National AIA convention in Dallas, Texas, the National meeting of the National Trust for Historic Preservation, the President's Advisory Commission, the Association for Preservation Technology, the Society of Architectural Historians, and International Conference on Monuments. Don is also a member of the Professional Interest Areas. In that position he works with the Institute officers and staff to develop and promote professional development in all areas of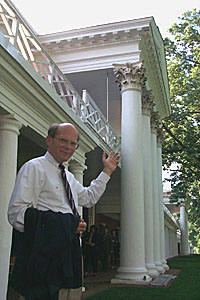 professional practice of architecture. Don will serve on the Executive Committee of the AIA beginning in the year 2000.

Don's work includes: Channel 29 Studios in Charlottesville; the restoration of Orkney Springs Hotel in Orkney Springs; the restoration of the Martha Washington Inn in Abingdon; the restoration of the original South Facade of Monroe's home at Ash Lawn in Charlottesville; the master plan for the preservation for Dodona, George C. Marshall's home in Leesburg; Sully Plantation at Dulles Airport; the Fluvanna County Courthouse in Palmyra; the Goochland County Courthouse in Goochland; the William Walker House in Warren; and the conservation and rehabilitation of 9 Court Square in Winchester, which was recently honored with the National Honor Award from the National Trust for Historic Preservation. His current works include: the conservation and rehabilitation of the Old Brick Tavern on the Green of Charlotte County Clerk's Office in Charlotte County; the Nottoway County Courthouse in Nottoway; and the preservation plan for the restoration of the cenotaphs in Congressional Cemetery in Washington, DC--monuments and markers designed by Benjamin Henry Latrobe between 1805 and 1860 to commemorate deceased members of Congress and the Senate.

Feature Project
Nottoway County Courthouse Complex

Nottoway County was formed in 1788 from Amelia County and was named for an Indian tribe who inhabited the area and for whom the Nottoway River was named. The present county boundaries contain approximately 310 square miles.

The county seat of Nottoway is a small rural crossroads community with a dozen or so buildings. The Courthouse is on the Register of Virginia Historic Landmarks.
The Roman Revival style brick structure was completed in 1843 by Branch H. Ellington and is one of the fifteen Jefferson-style courthouses in the state. It has a white pediment portico and features several characteristics of Thomas Jefferson's work. The center portion is a temple-form and the tetra-style Tuscan portico has stucco columns. The front walls of the courthouse are laid in Flemish bond, and the windows on the front and sidewalls of the center section have triple-hung sashes and dark green louvered shutters. The two wings were used for the Judge's Chambers and the Jury Room. They are now used for conferences and libraries.
In 1861 the Nottoway Grays, and later a troop of Cavalry, mustered on the lawn of the Nottoway Courthouse. Union soldiers bivouacked there on April 5, 1865, just days before the surrender at Appomattox. Charles Cook of York, Pennsylvania, watched his cohorts mutilate and destroy many of the valuable records and then left a message in Deed Book 3: "Johnny Reb: You can thank me for saving Lawyer Jones' books. I saved them because I am sort of a Bunkel lawyer myself." The location of the Nottoway Courthouse is noteworthy, because, like a number of county seats in Southside Virginia, including Charlotte Court House and Lunenburg, it sits off the beaten track. The broad expense of green lawn, the abundant shade, and the quiet, remote village have survived only because the railroads and interstate highways have carried crowds and commerce elsewhere.
Nottoway County Administrators retained DASA and the Board of Supervisors to provide a Historic Structures Report that would
give them a comprehensive understanding of the historic courthouse and provide recommendations for future work. A major goal in guiding DASA through the recommendations for future work on the Nottoway County Courthouse Complex was to preserve the integrity and historic character of the existing Court Square, while allowing the necessary improvements to its facilities and the possibility of future expansion.
DASA has continued with this project through the construction documents and into the bidding phase. Construction will start in late fall.
In over 30 years of practice, I have noticed with great interest, the changes in technology of the infrastructure of both the residence and the commercial office buildings. The change is subtler than the obvious change than one sees when comparing a 19th-century building with a 20th-century building. Today we are installing "cabling systems" in both residences and offices to accommodate any type of wiring necessary for electrical current, data transmission and telecommunications. In the modern residence, the expectation for coaxial or optical cabling, which will allow digital technology, data transmission and a host of other things to come. In a recent ad, I heard a cable television company saying that within the first five years of the new millennium, 2005, we will be asking the question "Why were computers, televisions, and telephones ever separate instruments?" It seems that in a relatively short period of time, we will be able to personally communicate with one another in both visual and aural modes...similar to what we see on StarTrek movies.
It is fascinating to consider how such technology impacts the historic house. In our work with historic houses, rather than cabling and running wires through the frame work of an 18th- or 19th-century building, we are inclined to use surface mounted wire molding, which seems to me to be an honest expression of the intent of the systems that we are installing in a building. In the 1930s, the paradigm was that all of this needed to be concealed within the walls and not visible. This idea is deteriorating for two reasons. First, the rapid changes in the industry sometimes require an industrial design of these types of wiring require that changes be made within two to five years of the original installation. Therefore, access is of importance. A second reason, however, is that no one seems to care that wires run all over the place anymore. This is most likely a response to the new technology developments and a sort of "gosh we need this, so why should we be concerned about what it looks like". It starts back to the notion of design espoused by Walter Gropius that form follows function.
This particular philosophy seems to collide right in the face of our client's ideals that say "the reason why we prefer and want either a historic house or new building that alludes to the historicity of an 18th-century house, is because it was a time of order and structure in society, more so than what we experience today". A brief talk with the interpretive consultants of Colonial Williamsburg, however, will show you that that notion is illusionary and that the real fact is that we have always struggled for order and symmetry in what is appearing to be a chaotic world.
It is a delicate balance that tells us that "all is okay in both our homes and in our lives and that the new technology is, indeed, required for us to stay in touch with the global community". In essence, we have brought the courthouse green, the supermarket or the farmer's market into our home.
Q. I am thinking of restoring my home, it may have some historical value, but I am unsure, what would be my first step? I am also on a limited budget, are there any tax credits avail- able for private residences?
A. If you have acquired an historic house or what you believe to be an historic house or property and you would like to verify that belief, it is easy enough to start at the local level by contacting a local planning or parks department to see if there is a local historic register and if the property is listed on it. Before purchasing property one should always determine whether or not the property is in a historic district or a Historic Landmark District, declared either by the local or federal government. If a satisfactory answer cannot be obtained from those local levels, then one needs to check with the Department of Historic Resources. Their address is phone number is:
Department of Historic Resources
221 Governor St.
Richmond, VA 23219
Ph: (804) 367-2323
If you do have a limited budget, it is probably better to get with a professional architect or a preservation contractor to determine the realities of cost as soon as possible. There are tax credits available in the Commonwealth of Virginia for restoration that amount to 20%. In the state of North Carolina they are as high as 30%. The federal government, at this time, is considering tax credits for residential restoration, and there has always been a 20% federal tax credit for commercial rehabilitation. Unfortunately, with President Clinton's veto of the 1999 Tax Act Revision, there will be no tax credits this year and the preservation forces are realigning themselves to take it to Congress again next year.
Tax credits, however, should be considered a bonus, only after the restoration is done, as most banks will not allow using the potential for tax credits as leverage to finance a project at this time.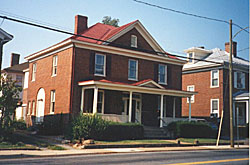 That may change in the very near future. One might also be aware that employing tax credits in a project will require compliance with the Secretary of the Department of Interior's Standards for Historic Rehabilitation (hereafter The Standards). The Standards require a level of conservation and preservation, which most architects and contractors are not familiar with today and interpreting these standards at the local level has proven a challenge to even the most capable of that group. There are specialists like DASA, plc, who, after 20 years of experience, know the ins and outs of rehabilitating buildings according to The Standards in assuring that tax credits will accrue. If tax credits do accrue, one also needs to be aware that tax credits must be taken over a five-year period.
To conclude, it's clear that there are tax credits available, but in turn for these tax credits one must pay very close attention to The Standards, which is why the government is saying "we are buying into this project and therefore want our standards observed".
There have been efforts to also refund the Historic Preservation Act of 1966 with funds that can actually be used for brick and mortar work. If these funds become available from the offshore oil well fund that will be allotted only to the highest and most important historic properties, generally those properties listed as National Historic Landmarks.
As Americans become increasingly aware of their historic patrimony and the desire to both rehabilitate buildings and build new buildings using older building styles and types as precedent increases, there will be more incentives from both the government and possibly private foundations to encourage this type of "renaissance" in America. We are, relatively speaking, a new country and the notion of harking back to our ancestors building styles to seek philosophical comfort within those styles is an interesting notion, although it is seemingly so, is not new.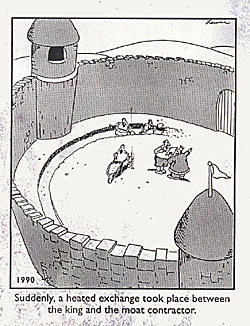 We would love to hear your questions or comments on our current newsletters, as well as ideas for future newsletters. If you would like more information on DASA or our projects, please address your inquiry to us at:
DASA, plc
812 East High Street
Charlottesville, VA 22902
Ph: (434) 979-7407
Fax: (434) 293-8534
email: das@dasaonline.com